I know Thanksgiving hasn't gotten here yet, but we all know how quickly Christmas comes around! It will be here in the blink of an eye! So I'm gearing up and putting the scores of Christmas papers that I hoard to good use!
I took this photo a couple years ago at the mall just before Christmas...it's my favorite time to go to the mall and now is a perfect time to scrap it!
journaling: Nothing puts me in a better mood during the holiday season than taking in all of the holiday hoopla at the mall. I don't know if it's the gigantic Christmas tree and decorations, the fake snow, watching the kiddies wait patiently in line for Santa, or watching shoppers go to and fro in search of that perfect gift. I love it all and for me, the season isn't complete without a few trips to the mall.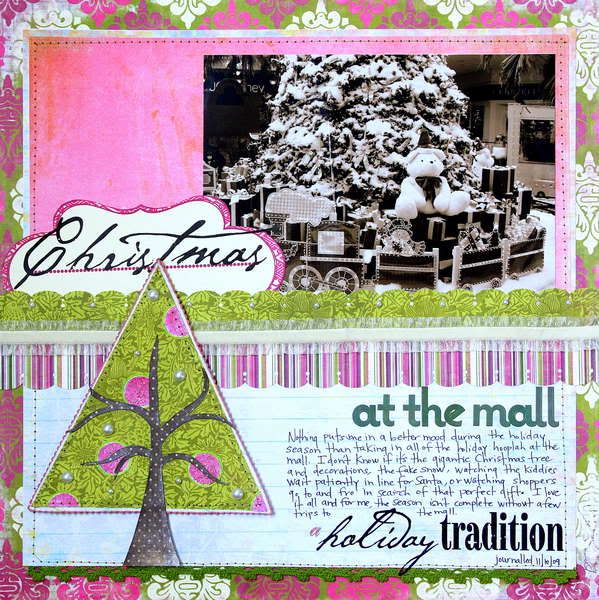 I popped my paper pierced tree up on pop dots and used some Shimmerz Paints to spruce it up. I painted the centers of the circles with Hottie Pink Blingz--look how perfectly it matches these papers from Pink Paislee. I then painted the tree trunk with Antique Lace Shimmerz , one of the new Fall releases. I love the way the shimmerz gives the tree just the right amount of bling
and makes it look quite festive.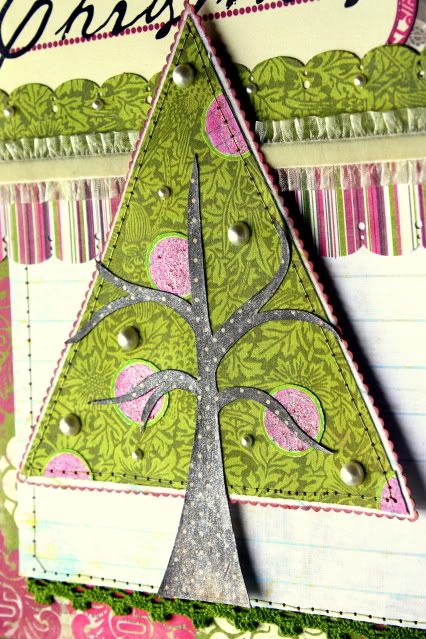 Shimmerz has definitely become a staple on my projects. It so super easy to use and dries very fast...I can't help but put some on almost every project that I complete!
I hope I've inspired you to pick up a paint brush and get your Shimmerz groove on!!