Today
Shimmerz
is celebrating the release of our 4 newest products: Tickle Me Turquoise
Shimmerz
, Jilted Jade
Shimmerz
, Island Salsa
Blingz
, and Caribbean Sunset Spritz!!!
One of the things that I love about
shimmerz
is that I can give my projects that "WOW factor" no matter how much (or little) product I apply.
For my first layout, I added just a touch of the new jilted jade to the upper and lower left corners because they looked a little blah to me. Just a few tiny brush strokes enhanced the distressed look and satisfied my need to spice up the layout. I also added jilted jade to the green swirly sticker to give it a little shine!
close up of one of the corners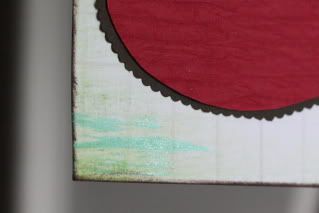 close up of the sticker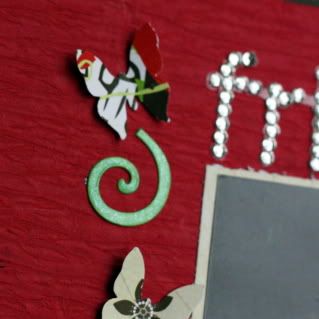 For this next layout, I went all out and made it
shimmerlicious
! First I used chipboard hearts as masks as I spritzed patterned paper with the new Caribbean Sunset Spritz. Next I painted some of the hearts with Tickle Me Turquoise
Shimmerz
which by the way, has become my favorite color! I also swiped a few strokes of Tickle Me Turquoise
Shimmerz
along the edge of the layout and completely covered the blue flower...it's really shiny in person!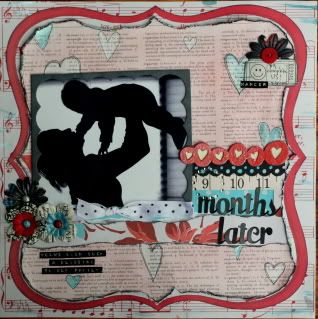 I painted the row of chipboard hearts with Island Salsa
Blingz
. The "
orangish
" color actually lightened the dark red chipboard and made it a better match for the layout.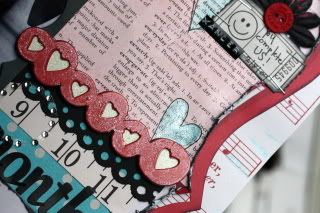 Because I love
shimmerz
so much, I tossed in a few existing products. I sprayed the red flower with Barn Yard spritz, and the ribbon with Baby's Breath spritz, then painted the black
flower
with
Pixie
Dust
Blingz
.
There are just so many different uses for
Shimmerz
...just pick up one (or 10) and give it a whirl, you can't mess it up!