Here's my share for the day . . . a layout using LOTS of beautiful Shimmerz paint and Spritz. I love to create colorful backgrounds by spraying Spritz on white cardstock. For this "Joy" layout, I used Sea Foam Spritz for the sky and Olive Branch and Bamboo Leaf for the grass.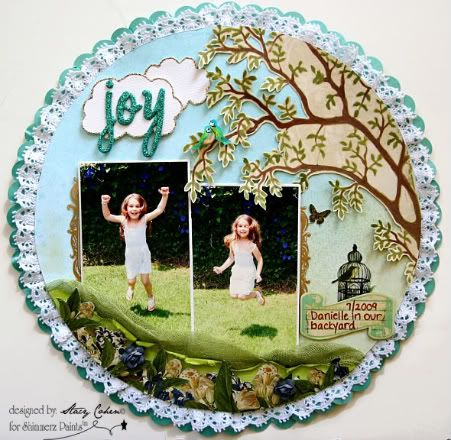 I created the grass by spraying white gauze with Olive Branch Spritz. I colored the small white Prima flowers with Sapphire Spritz.
I painted the leaves and branches of the cut-out tree (cut from Webster's Pages paper) with Green Olive, Celery and Choc-o-lot Shimmerz paint. I made the pair of love birds out of shrink plastic:
Have a great day!!
Stacy Cohen